Speaker & Program Details
Strategy Redefined: Turn Uncertainty To Your Greatest Competitive Advantage
Meridith Elliott Powell


sponsored by CalFlowers
Competitive, challenging, and constantly changing – that is today's marketplace! As a leader, you have to wonder how do you plan, and how do you build a strategy in the midst of so much chaos? Success today belongs to those organizations that can strike the unusual balance of being highly focused while remaining acutely flexible. It's a fine line.
It's time to redesign business strategy. To grow and compete you need a new perspective and a new approach to how you build and execute your plan. In this highly engaging and power-packed presentation, Business Growth Strategist, Meridith Elliott Powell, reveals the secrets to what it takes to be critically focused, more resilient, and incredibly nimble and agile in today's marketplace.
Based on research from her newest book, Thrive: Turning Uncertainty to Competitive Advantage, Meridith walks you through how the business landscape has changed, and how those shifts impact your customers and your team. Then she'll reveal how you can build a new type of strategic plan. One that puts you in the driver's seat - ready to proactively prepare for disruptions, find the opportunity in every obstacle, and one that leaves your competition in the dust.
About Meridith Elliott Powell
Sales strategist, leadership expert, Certified Speaking Professional, and award-winning author, Meridith Elliott Powell wants today's businesses to stop viewing uncertainty as something that prevents them from being successful. This is why her virtual programs, leadership coaching, online courses, and keynote presentations leverage her 9 step formula for making uncertainty your company's strategic advantage™.
So you can stop letting unpredictability be an obstacle to your success, and start embracing today's uncertainty to drive your organization's growth and achieve phenomenal results.
---
Turn Attrition To Attraction
Meridith Elliott Powell


sponsored by CalFlowers
What if the great resignation could be YOUR greatest opportunity? What if you had a plan to attract the employees that your competitors are driving away? What if you had a pool of talent as committed as you are to your customers and to the growth of your organization? How far could your business go? What could you accomplish?
Join us for this innovative and paradigm-shifting program, where Meridith will what it takes to win the war on talent. How to view the challenges in the marketplace from a new perspective and apply her real-world cutting-edge strategies to build a deep talent pool.
Based on her book, Who Comes Next? Meridith has cracked the code on one of the biggest challenges facing leaders today – finding, developing, and retaining the talent they need to grow their organizations. In this program, you'll not only get your questions answered but you'll walk away with your personal plan of action to build a team as passionate and engaged as you are.
---
Value-Added Selling: How to Sell More Profitably by Competing on Value, Not Price!
Paul Reilly


sponsored by CalFlowers
Today's sellers face familiar challenges at unprecedented levels. Markets are flooded with tough competitors selling similar products and services. With the commoditization of products and services, customers become increasingly price sensitive. Technology has created even more competition and pricing transparency. It's no wonder that selling value remains one of the greatest challenges facing today's sales professionals. This tone-setting presentation introduces you to Value-Added Selling. You'll learn several ideas that will help you implement this go-to-market strategy.

In a competitive market, differentiation is key. What sets you apart from your competitors? Why should customers buy from you? How can you get them to return to you again and again? What if I told you that you can compete aggressively and outsell the competition while maintaining your profitability? It's possible through Value-Added Selling. Value-Added Selling continues to be a content-rich message of hope. You can compete aggressively and profitably based on your total value and not on price. The need for this message has never been greater.
About Paul Reilly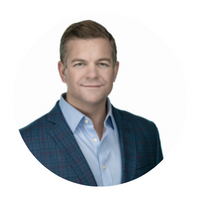 Paul Reilly is a professional speaker, sales trainer, and author. He coauthored Value-Added Selling, fourth edition (McGraw-Hill, 2018), and authored Selling Through Tough Times (Fall 2021). Reilly also hosts The Q and A Sales Podcast, where he answers the most pressing questions facing today's sales professionals.
Reilly is a long-time faculty member at the University of Innovative Distribution (UID). In 2020, Reilly earned his CSP (Certified Speaking Professional) designation. Fewer than 18 percent of professional speakers have earned this designation. Reilly travels the globe sharing his content-rich message of hope.
With over fifteen years of B2B selling experience, Reilly is a salesperson at heart. He cut his teeth in the commoditized propane industry—a notoriously price-sensitive and competitive market. He also sold tools and fasteners for the Hilti organization. Paul qualified for the Hilti Master's Club in 2010 and in 2011 was inducted into Hilti's Three-million-dollar Sales Club.
Paul attributes his success to his belief in the Value-Added message.